CoMando Sessions CD's

click here to see how to order the CD's
This is a production spawning from the CoMando mailing list, where listmembers contributed recordings with as a common factor their beloved mandolins.
These mandolins include all incarnations of this old instrument: brand new creations by contemporary luthiers, including electric ones, as well as vintage 20's Gibsons. Most are carved top/back mandolins, but also other mandolins, and some mandolas, mandocellos and octave mandolins are to be found.
The music is mostly American, played with lots of swing.
There are a lot of original compositions, especially on volume I. The second set has more traditionals, including Celtic.
These are professionally produced (printed, not burned) CD's, both the looks and the sound quality are pretty amazing, and the music is great too!

Produced by Sean Grexa, who is also responsible for the distribution.
Price, including postage worldwide:
Vol. I - $10
Vol. II - $10
Vol. I & II- $15

To order CD's, send money to:
Sean Grexa
1106 Warwick Road
Haddonfield, NJ 08033
USA
For more information, contact Sean via email at: mandoman@bellatlantic.net

Alternatively: surf to Mid-Continent Music and type "Comando" in the search window. Both CD's are for sale here, also with the discount price for both sets.

CoMando Sessions Vol. II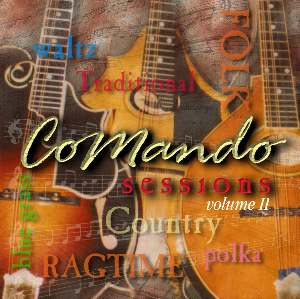 DISC 1
1. Autumn Leaves ... Kerry Williams
2. Watch What Happens ... Jan Kahdeman
3. She Waltzes Alone ... Don Julin
4. Trouble In Mind ... Marc Woodward
5. Arrival of the Queen of Sheba ... Simon Mayor
6. Victoria's Real ... David Crummey
7. Done Gone ... Joel Glassman
8. The Perry Mason Theme ... 1999 Classical Mandolin Society of America Mandocello Quartet
9. Arkansas Traveler / Soldier's Joy / Liberty Medley ... David Crummey / Jim French
10. Redwing ... Willie McCraney
11. Blackberry Blossom ... Sean Grexa
12. Down Yonder ... John Strong
13. Adam's Road Home ... Jim Dunbar
14. Bonnie Bell Schottische /Rochester Schottische / Whiskey Before Breakfast ... Redwing
15. Bottom of the Punch Bowl ... Alex Brossault
16. TV Guru Blues ... Bob Loomis
17. Tecumseh Courting the Young Miss Galloway ... Dave Berry / Bill Foss
18. White River Bottoms ... Craig Owensby
19. The September Waltz / Old Madeira Waltz ... Charlie Hunt
20. Spirits of Spring ... Don "Zydeco Ziggie" Zeitler

DISC 2
1. The Road to Louisville ... Massimo Gatti & Hot Stuff
2. Opus One Kanobee ... Mike Stangeland
3. Joporo ... Mandolinda and Co.
4. Rainforest ... Mike Stangeland
5. Angeline the Baker / Cherokee Shuffle ...Ferd and The Hiltones
6. King of the Pipers / Sovereign Times ... Ray Murphy
7. The Mayberry Suite: Mr. McBeevee's Reel / Smoothly and Safely / Mayberry After Midnight / The Mayberry Hornpipe ...John Bird
8. Mackenzie Hay / The Spey in Spate ... Nigel Gatherer
9. White's Polka ... Lynn "Chirps" Smith
10. The Peacherine Rag ... Ramapo Fault String Band
11. Cotton Patch Rag ... Pete Martin
12. Red-Haired Boy ... Gary Mohler
13. Temperance Reel ... Bill Hamilton / John Strong
14. Come Thou Fount of Every Blessing ... Lee Bidgood
15. Hunter's Purse / Cooley's Reel ... Mandolinda
16. Tree of Life ... Jim Garber
17. Clifty Falls ... John Goodin
18. Mira-Bhajan ... Brian Miller
19. Rock the Cradle Joe /Liza ... Joyous Noise String Band
20. Down on the Levee ... The Reg'lar Guys
21. What a Friend We Have in Jesus ... Deb Tilton

Also see: Citterns on ICE: a home recording project by the Cittern List

or

my Guestbook, look at the page statistics: or go


These pages (http://www.xs4all.nl/~cittern/) copyright 1999 Anthony de Waal. Please link, but to the index page only!